About Girls Rock!
Girls Rock offer holiday programmes for young women, trans, intersex, takatāpui, and gender-diverse youth where music is the medium to build confidence, empowerment and foster social change. Youth between the ages of 12-17 years will form bands, learn instruments, attend workshops and write an original song to be performed at a concert for friends and family at a showcase.
The Pathways programme offers collaborative workshops and mentorship for youth aged 16-19 developing our next generation of To The Front organisers.
The Goals of Girls Rock Aotearoa
1. To help young women, and/or intersex, trans, takatāpui and gender diverse youth build confidence and practical skills in songwriting and music through tutoring and practice.
2. To utilise the talent of local songwriters and music-makers to help mentor and guide participants.
3. To educate young people through talks and collaborative workshops on songwriting, design, feminism and wellbeing.
4. To support and promote the presence of women, and/or intersex, trans, takatāpui and gender diverse youth in music.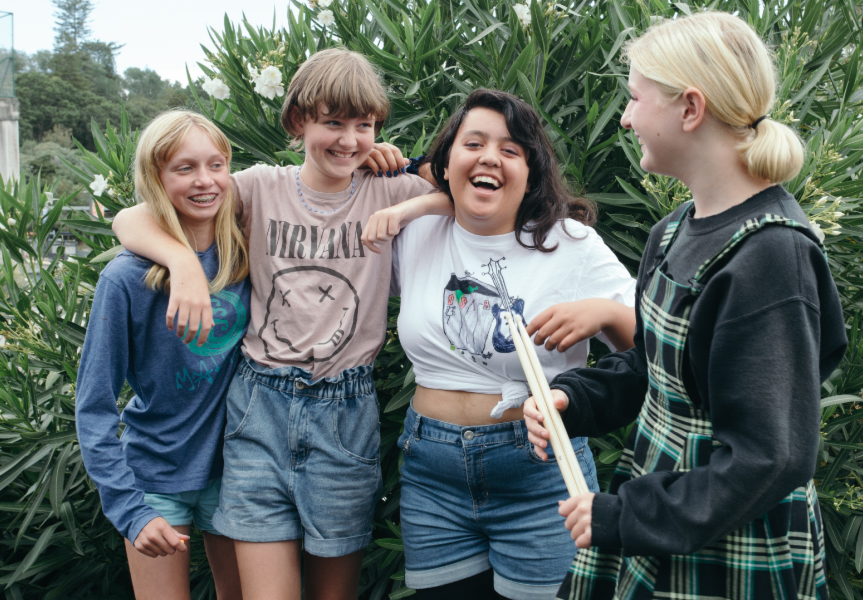 Kaupapa
The kaupapa of Girls Rock Aotearoa is to create the world we want to live in – a more equal and inspiring place. We are a charity organisation made up of musicians and music lovers with years of music industry experience. We are committed to guiding the advancement and empowerment of young women, and/or intersex, transgender and gender non-conforming youth.
Rachel Ashby
(She/Her)
Events and Pathways Coordinator
Rachel Ashby is a broadcaster, music journalist and arts writer based in Tāmaki Makaurau. Since 2019 she has been the host of the 95bFM Breakfast Show and previously presented the station's dedicated arts and culture programme 'Artbank'. Rachel is passionate about helping young people find their place in Aotearoa's weird and wonderful creative communities. She has been part of the Girls Rock whānau since 2020 and grew up in quake city Ōtautahi.
Brooke Singer
Kaitiaki & Coordinator – Pōneke
Brooke Singer is a musician who is involved in many aspects of the NZ music industry as an educator, publicist, and label co-ordinator but primarily as a songwriter and performer. She has been involved with Girls Rock! Aotearoa since 2018 when she participated as a band mentor, and found it to be an inspiring and rewarding experience. She now assists with the organisation of Girls Rock! Poneke events. In her spare time you'll find her walking to the far reaches of Poneke's hilltops and beaches, drinking tea and patting the neighbourhood cats.
Leea Lamatoa
Kaiārahi Tāmaki Makaurau
Leea is a passionate musician and songwriter with particular interest in the weird and wonderful things the voice can do and helps others to explore their own voice across Tāmaki Makaurau. Leea has been involved in Girls rock since 2019 as a mentor, organiser coordinator and is now the Kaiarahi for To The Front Tāmaki Makaurau. When she is not making music, you can find her playing arcade games and patting neighbourhood cats.
Anna Reilly
(She/They)
Funding & Bookkeeping
Anna Reilly is a local music all-rounder who loves projects, process-based learning, gardening, and the future. With 15+ years of industry experience, a BMus degree in Music Education, and a diploma in Audio Engineering, Anna has a knack for spreadsheets, a reverence for diversity, and a passion for work-life balance. Anna has been involved with her dream community GRA since volunteering at Girls Rock T
āmaki Makaurau in 2019.
Ciara Bernstein
Events and Pathways coordinator
Ciara is a multi-talented musician, producer, and audio engineer. She is the co-owner and operator of The Vault, a rehearsal, recording and event space in Tāmakai Makaurau. The Vault has become a multi-dimensional community hub for local artists and musicians, providing a platform for both established and emerging talent to showcase and develop their work. Ciara has played in almost a dozen bands over the past 8 years, giving her the opportunity to tour in Aotearoa extensively, as well as the UK, Australia, USA and South Africa.
Nicole Gaffney
(She/Her)
Treasurer & Kaiārahi Te Papaioea
Nicole Gaffney has been a part of Girls Rock since its inception and has been a coordinator and mentor in Aotearoa and Australia. She is a registered teacher and part time youth worker. She is based in Whanganui with her dog Remi, supporting the lower North Island To the Front programmes in Wellington and Palmerston North. Nicole has been playing music since she was a tween and has DIY toured around the world playing music.
Ali Burns
Secretary 
Ali Burns has been a part of the Girls Rock team since 2018. She started becoming involved with music at University. Ali wishes she had been able to attend a programme like Girls Rock! so she could have had the confidence to start making music sooner. Ali is also a screenwriter and if she isn't busy with Girls Rock!, at band practice, or writing a film then you can find her at the beach!
Kelsi Stroud 
(She/They)
Kaiārahi Pōneke
Kelsi had been a part of the Pōneke team for 5 windy winters and is now Kaiārahi of the region. In their spare time Kelsi plays punk music with their friends and performs as much as possible.  
Eliana Gray
(They/Them)
Chair & Development & Wellbeing coordinator
Eliana Gray has been involved with Girls Rock Aotearoa since its inception and thinks it's one of the most important things in the world. They like to sing, write songs and think that having fun is the purest form of art. They work primarily as a poet and youth worker. When they're not writing they can be found in the ocean.